Felbermayr — A European family-owned company
The family-owned company Felbermayr is involved in several fields of business, which compliment each other perfectly and which have a strong customer focus: Transport and lifting technology on one hand and construction on the other. Felbermayr has been successfully positioned in these market sectors as a full-service provider for many years.

Every employee works on this daily - we want to become better still!
Felbermayr Linz was assigned a heavy transport order with a historical background. In mid-August,...
Read more
In May, the crane ship from Felbermayr hydraulic engineering was used for the construction of a temporary bascule bridge for pedestrian and bicycle traffic. The installation became necessary due to the renovation of a road in the area of the Kuchelau marina between Vienna and Klosterneuburg.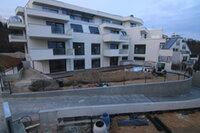 Now that the shell construction work for the new Felbermayr Group headquarters has been completed, the interior work will begin. The outdoor facilities will be built at the same time.
Read more